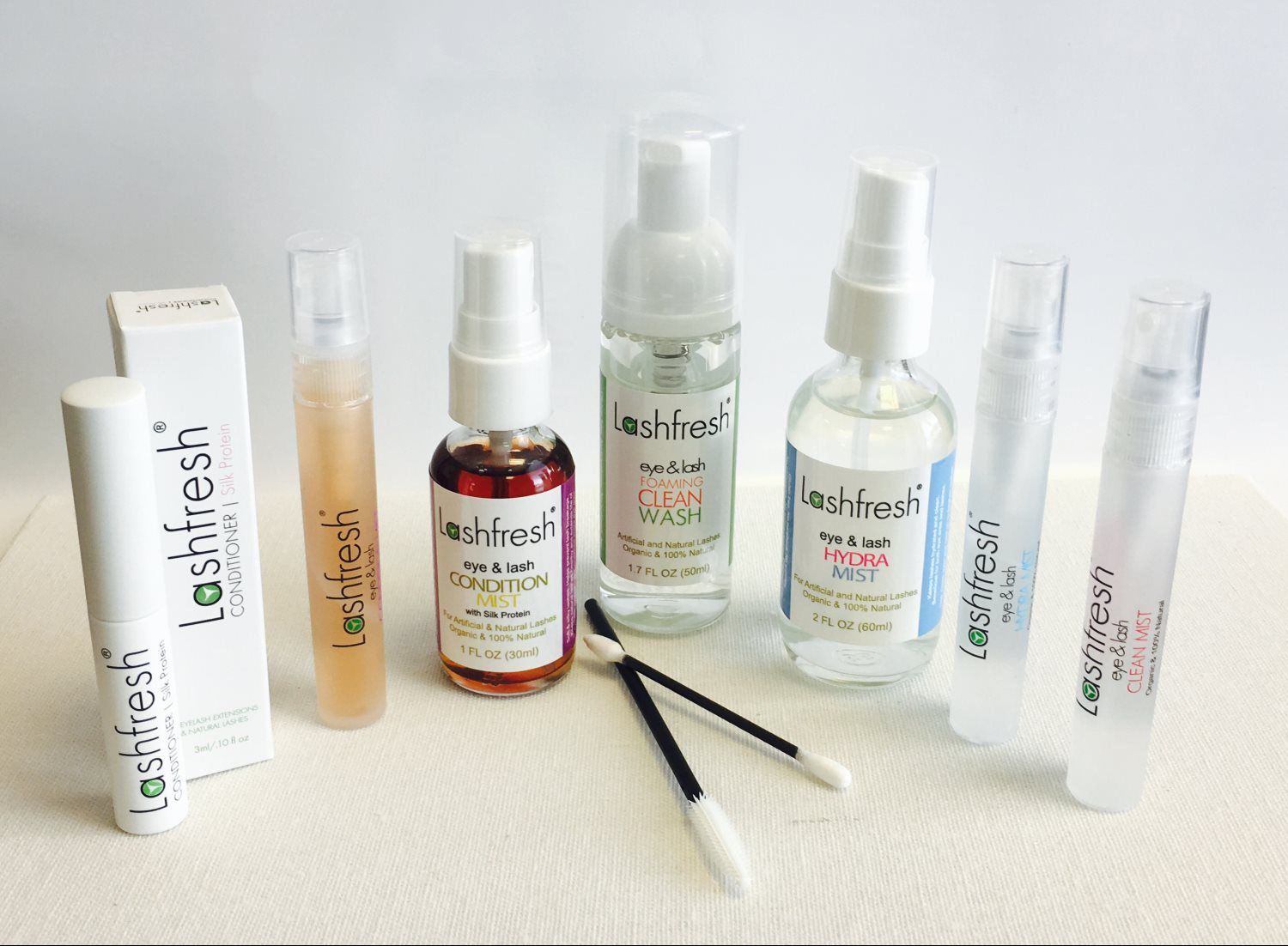 LASHFRESH
FAQ
1. Can your products be used on real eyelashes?
Yes, the ingredients in all of our LashFresh products are designed to benefit both natural eyelashes as well as semi-permanent & artificial eyelash extensions.
2. Are they safe for my eyelash extensions?
Definitely! None of the ingredients we use in our products contain oil, therefore safe for use on both natural and artificial lashes - eyelash extensions, fake strip lashes, flares/individual lashes (oil can cause the glue/adhesive that holds your eyelash extension to your natural eyelash, to prematurely break-down). So your lashes receive all of the nutritive benefits of the ingredients without compromising the look, feel, or length of time your eyelash extensions will last.
3. Are your products Hypoallergenic?
Hypo-allergenic does not mean non-allergenic, but rather the most common skin allergens have been removed from the product. We have taken all necessary steps to ensure we have not used ingredients that contain known allergens. All of our ingredients are listed on the products' label so you can easily avoid ingredients that may personally cause you irritation.
4. Will I have a reaction to the Lashfresh products?
Like any other cosmetic product some people may be sensitive due to certain reasons. We recommend testing the Lashfresh products on back of your wrist for sensitivity. Some temporary mild redness may occur for those whose skin is chemically treated or use citric products such as vitamin C directly before or after use with Lashfresh product.
5. Will your products make my eyelash extensions last longer?
It is currently not possible to extend the time that your eyelash extensions last - since extensions are attached to your natural lash, as you naturally shed your real eyelashes, the extensions fall out along with it. What our products are designed to do is to keep your eyelash extensions looking and feeling soft, fresh and new for that "just applied" look and feel.
6. What is the difference between the Condition Mist and the Hydra Mist?
a. Condition Mist - is used minimum 1-2 times a day (morning and/or night) to condition natural lashes and eyelash extensions. It also contains a natural silk protein.
b. Hydra Mist - is used as often as you wish to keep lashes fresh throughout the day and relieve any irritation/itching.
7. What is the silk protein?
The Silk Protein Hydrolysate is a conditioner that softens lashes, keeps glue from hardening, hydrates and conditions. It is an excellent conditioner for both lashes and skin. Customers who use the Lashfresh Conditioning Mist notice the skin around their eye area being smoother and softer.
8. Are your products natural? Organic?
Our products are 100% natural and are between 80-90% organic. If an ingredient in our products is available in organic form, we use it. Our products are also chemical-free, phthalate-free, paraben-free, sulfate-free, Gluten-free, contain no waxes, petroleum by-products, GMO's, artificial colors or fragrances and are they are 100% Vegan.
9. Are your products VEGAN?
Yes, 100%. We do not use animal ingredients, we do not test our products on animals, nor do we use ingredients that have been tested on animals. The silk protein that we use in our LashFresh Condition Mist is derived from a natural, non-animal source.
10. What is the cornflower ingredient for?
Cornflower is a natural anti-septic for the eyes and adding this ingredient helps with any Irritation, inflammation & "itchiness" you may have with your eyes and/or eyelash extensions.
11. How long will your products stay fresh?
Our products have a 12 month shelf-life. We make all of our products in small batches and ship your order within 2 business days to ensure that the products you receive are as fresh as possible.
12. Is Glycerin in the Lashfresh products ok for eyelash extensions?
Glycerin is the most common ingredient in Biology. It can be obtained from animal fat or
vegetable sources. The Glycerin we use is derived from vegetable sources and is
water soluble, it is not oil based.
There are NO oil based ingredients in the Lashfresh products.